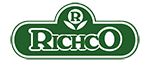 SHARE THE LOVE- A FAMILY CENTERED BUSINESS
Our company, formerly known as PK Coffee was established in 1973 focusing solely on a Malaysian favorite, Kopi-O (black, grounded coffee beans) that were packed in individual sachets and sold directly to consumers.
A change in ownership between its establishment and 1994 saw the company through a different direction. As a result, a wider range of beverages were formulated and the need to change the company's name arose.
Classico Beverage was then established and developed the brand RichcO in commitment to serve premium, high quality instant flavored iced tea, coffee and hot chocolate to the hospitality industry and the wider community.
Quality remains the priority for RichcO in its manufacturing process, where every ingredient is selectively sourced from reputable local and international suppliers and formulated with deserving care and respect.
RichcO flavors are creatively developed through precision and extensive research. Keeping up to date with trends and innovation, RichcO is determined to provide the best flavored variety of Iced Tea, Coffee and Hot Chocolate.